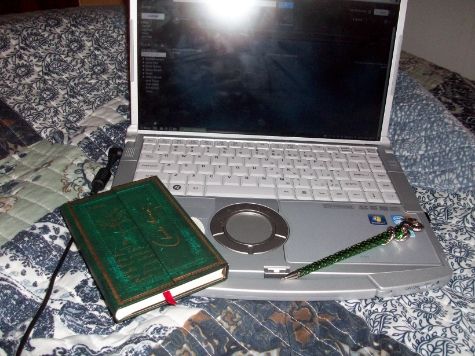 This things are the three major things I need for writing that are expensive.
Everything else is easy, paper, pen, mental agility and memory.
I really wanted this ruled Charles Darwin book to write more book ideas in. I'll maybe use 1/10 of this material. I could use paper and a cheap durable pen, but I like to "secret" my thoughts in a little book. And it's emerald green to go with the brilliantly green and silver pen with the serpent on top, which I've had for a while. And the laptop. Panasonic Toughbook with Linux Mint 14. I can't really write with a tablet, I'm not that coordinated and/or simple-minded. They have them with keyboards but I can't deal with the platform. Too damn expensive for one thing.
These three tools are like a small Slytherin cheering section. The pen is top heavy and it's easier to type. Apparently this book will have 15 chapters. There are some places and people I search for names for, and a lot that needs to be thought out and intuitively as well. Does this make sense? If no, maybe I'm going in my own bizarre direction. Good.